Knives are the primordial kitchen tool and as much as on one level it is true that you do not need any special equipment to go plant-based, I am finding that, for me, I seek to max out on conveniences in the kitchen as preparing fresh food has become much more of a focus. Cooking and food prep have become a daily meditation almost. It is my way of communing with nature in a fourth floor apartment in the Bronx.
Knives used to be an odd collection of knives that I had picked up for cheap and were amazingly good, including a slicer that I had bought at the Hema department store in Rotterdam in the 1970's. It was very thin and sharp, which I liked for vegetable work and a stainless steel Chinese vegetable chopper that I bought in Chinatown in the early 80's, which was probably my favorite. And then there was a set of Rowoco Sabatier knives from around the time I got married in 1981 and a starter set of MAC knives, which I always loved, both a paring knife and a chef's knife of the "original" series. For 35 years, that was it. Now, with my renewed interest in the kitchen, I began to expand my appreciation for Japanese knives, and also to get newly serious about sharpening. Living in apartments and having lost my basement workshop, I had lost some of my knife sharpening tools.
A video blogger by the name of Ryky Tran, became my go-to source of information with his Burrfection series on youtube. Here he is presenting his top choices for 2018:
And then I found some books as well, and during 2018 I picked up some absolutely wonderful books about knives. My growing collection of knives and whetstones is now my little kingdom, like my basement workshop was when I was a home owner in the suburbs and sharpening knives is a favorite hobby. But the books have helped me deepen my understanding.
Sharp: The Definitive Introduction to Knives, Sharpening and Cutting techniques, with Recipes from Great Chefs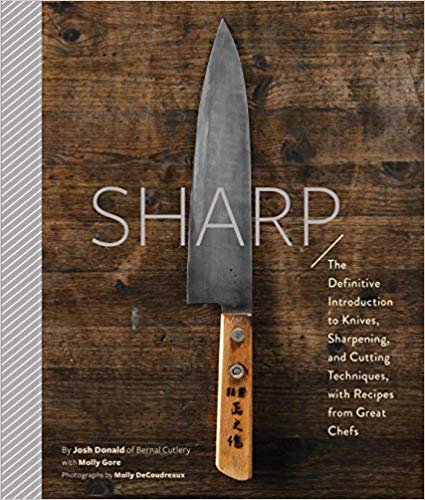 What a lovely book this is! The author is Josh Donald, and his shop is Bernal Cutlery in San Francisco. It is an artwork in and of itself, and the exciting story of someone who 'followed his bliss' and made his interest in knives into his business, just at the right time for when the interest in cooking began to grow and Japanese knives in particular were being discovered. The book is a treasure trove of information that will help you explore all the ins and outs of owning and caring for good knives, and, if you did not have it already, you will come away with a profound appreciation for how much of a difference good knives can make. The title speaks for itself: Sharp: The Definitive Introduction to Knives, Sharpening and Cutting techniques, with Recipes from Great Chefs. What else do you want to know? I am dying to make a trip to San Francisco and go visit the shop of this author.
Who knew that "restaurants" in the modern sense started in France with the Revolution, and the fact that with the slaughter of the aristocracy, the private chefs they had were looking for alternative employment and began to start private eateries, called restaurants. With the restaurant business came the prominence of French cuisine and French cutlery as well.
And, if you want to understand the finer points of Japanese cutlery, here's a quote worth remembering:
In a Japanese kitchen, cutting is cooking, not just something that comes before it.

(Sharp, Josh Donald, Page 80.)
One interesting thing to note is how pervasive is the mythology of our presumed protein needs. The book speaks on how the two styles of knives in the Japanese kitchen are the deba (for"proteins") and the nakiri for vegetables. It just reminds me of how huge is the paradigm change to plant-based nutrition and letting go of the idea that we need any special protein in our meals. Plants will do just fine, thank you very much. The problem is too much protein, and a lack of protein is tantamount to impossible – even on a plant-based diet you can get too much, let alone you should ever worry about it.
An Edge in the Kitchen
The full title of this book is: An Edge in the Kitchen: The Ultimate Guide to Kitchen Knives — How to Buy Them, Keep Them Razor Sharp, and Use Them Like a Pro. This book is right up there with "Sharp." It is an amazing journey into what knives are all about and it will make you much more conscious of how you use knives, what knives suit you best, etc. Like "Sharp," the book itself is a work of art, and something that you'll love to hang out with.
Japanese Kitchen Knives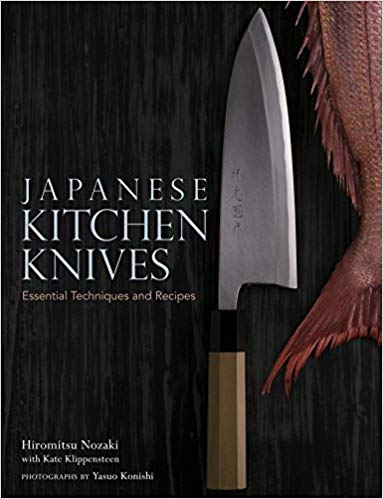 As the title, Japanese Kitchen Knives, would suggest, this book is a really thorough introduction into the world of Japanese knives, including knife techniques. As a plant-based chef, I have really come to appreciate the fine points of a nakiri, which is excellent for cutting vegetables. I now prefer a nakiri and its push cut style over my old chinese vegetable chopper that seemed to go hand in hand with my previous penchant to wok cooking. An usuba has its own special advangates, and it is fun to learn some of the techniques, especially I enjoy the katsuramuki and sogikiri styles of cutting veggies. Ẅith practice, it becomes really second nature to come up with nice presentations. I still feel like a rank amateur, but I am learning.
For my day to day prep work I have come to prefer the ENSO 5.5″ kiritsuke-style prep knife. It is unbeatable and very practical in a fairly small kitchen, where even an 8″ chef knife can be unwieldy at times. I grab larger knives mostly only if the job demands it, but for most routine jobs these small prep knives are unbeatable.
Knife: The Culture, Craft and Cult of the Cook's Knife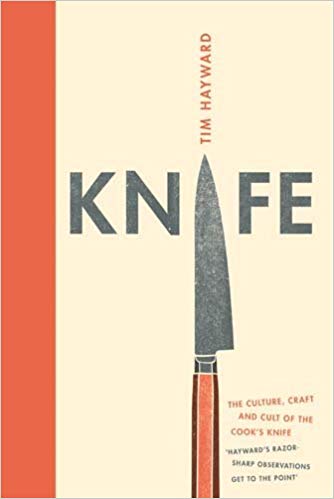 Author Tim Hayward's book Knife is another ode to good knives. The excitement with the subject fills these pages and it is a thoroughly engaging read. For my money, all of the four books mentioned here are equally engaging. For some people one of them will do. Personally, I could not tell you which one of these books is the "best" I have learned stuff from all of them, and I would consult them from time to time. So go ahead, and have a ball if you want to up your knife skills.
Stores, sharpening help and other goodies
If you're here in NYC, and you want help with to find the good Japanese knives, the prime destination is Korin, at 57 Warren Street in Manhattan. Their youtube channel has some of the best knife sharpening videos around.
Another favorite destination is MTC Kitchen at 711 3rd Ave, corner 45th, between 2nd and 3rd Aves.
Then there is Seito Trading, at 41-26 27th Street in Long Island City, NY 11101. And finally, not to be missed is Yanagi knife in Brooklyn, at 5204 7th Ave, Brooklyn, NY 11220.
In short, there is no shortage of good knife shops in our city, and you will find them in most major metropolitan areas. There is good reason Japanese knives became so popular. On a personal level, it amazes me that I previously had a few years in the 1980's when I did a lot of Japanese style cooking, yet aside from my starter set of MAC knives, which are a fairly westernized line of Japanese knives, I did not really get into Japanese knives at that time, but with my increasing interest in prepping vegetable dishes, I have fallen in love with several Japanese knife styles. At the moment, it seems like there is a flood of copycat Chinese knives on the market, providing Japanese style knives as well as Western knives. It remains clear that the Japanese makers absolutely have the edge. Some of the great names are Shun, Yaxell (ENSO, Dragon Fire, and other lines), who are more purely Japanese, while Miyabi, as well as Global and MAC, are Japanese but with more of a focus on Western-style knives. For the moment, my favorites are Miyabi, Yaxell and Shun, while MAC remains among my favorites as well. I have listed my selections on my About Me page on this site.
Conclusion: Knives for #WFPB Cuisine
Based on my experience sofar, the great specialization of the nakiri vegetable knife (that is what the name means, after all) is an absolute blessing for the plant-based kitchen, and overall the Japanese style of thinner, harder, sharper knives is welcome. It goes to the point that you are not ever crushing your vegetables, but actually slicing them. You are not crushing the cells and inviting oxidation in. Everything you cook will be fresher than you ever experienced before.
As you strategize how you'll cut something, ask yourself: "Do I want to incorporate the flavor of the vegetable, or do I want it to stand on its own?" In the case of a potpie, a nice big chunk of onion can be delicious. In a salsa, you probably want it to blend in. When you start to think about it this way, knife skills become a kind of subtle flavor control. Take the same recipe and cut the onion two different ways, and they will taste different, for better or for worse.

Josh Donald, Sharp
My personal favorite test is that with a duly sharp knife you can mince an onion without shedding a tear. If the knife is at all dull, you will immediately notice the difference and tear up, for you will be crushing more than cutting. By the same token it is very different if you crush garlic, and mince it, or you rub the insides of a wooden salad bowl with crushed garlic, or you slice garlic paper thin. For that, I have a Kanegetsu Saiun VG-10 3.5″ paring knife that is razor sharp, I avoid it for most other uses, for it is too sharp, and delicate. My MAC paring knives run a close second.
My top choices for the plant-based kitchen would be:
Either one of the Yaxell Dragon Fire 7″ nakiri designs, or, a close second, the Shun Classic VG-10 nakiri
The Yaxell ENSO HD or SG2 5.5″ prep knife
The MAC Chef Series 2.5″ bird's beak paring knife
The MAC Professional 3-1/4″ paring knife
And, if you like to learn new food prep methods, the Shun Pro 6.5″ Usuba
If you like a chef knife, the Miyabi Birchwood 8″ is the winner.
You can find all of them on my kit list, on the about me page of this website. In my childhood, a kitchen knife came from Solingen, when I arrived in the US at the end of the 70's, Julia Child and André Pepin reigned supreme and Sabatier knives were king, so I got a set, I always did a lot of wok-cooking and I always had a Chinese vegetable cleaver. During a brief Japanese period I picked up a MAC paring knife and a Chef knife which remain near and dear to my heart. I missed the first wave of interest in Japanese knives in the 80's, except for picking up those MAC knives.
In the book Sharp, Josh Donald tells that story of the different waves of knives from the American perspective. He's quite detailed and some of the interesting insights are the fact that in France knife making lost its edge when legislation was passed that kitchen knives had to be stainless steel. It is much harder to make a truly sharp knife with stainless steel. Meanwhile, in Germany, traditional knife makers like Robert Herder in Solingen stuck to their specialty of making top notch carbon steel knives and survived and thrived.
Ever since I took a deep dive as a result of my interest in plant-based cuisine, I began to realize how truly exceptional the Japanese knives are. Armed with the four books I listed here, I will never look at a knife the same way.