No more fatbergs in the sewers, that is the new campaign in New York City #FatbergFreeNYC, and the city is trying to teach us to no longer use the supposedly flushable wipes that do not degrade, but plug up the sewers. But oil and grease is a big culprit also – hence the name fatbergs. So if it gums up the city sewers, why on earth would you want to eat it and gum up your blood vessels? When will people get it that a single oily meal can cause a heart attack? Or, as Dr. Neal Barnard likes to say: extra extra virgin cold pressed olive oil or 10W40 motor oil, it's all 80% fat and your body does not need it. For good measure, here is Dr. Caldwell Esselstyn on the topic.
On a personal level, I am now going on five years with Whole Foods, Plant-Based nutrition, and the transformation is complete. If i taste anything oily, it practically gives me a retching reflex. Simply anything you cook tastes better, fresher, more flavorful if you cook it without oil. Oil gives things a dull sameness that you will never want again once you get to know the alternative. In my cooking, To me it's like munching on old socks. Why would you want to, if you have an alternative?
Inspiration for Cauliflower Soup
I stumbled into this gorgeous picture of cauliflower soup the other day: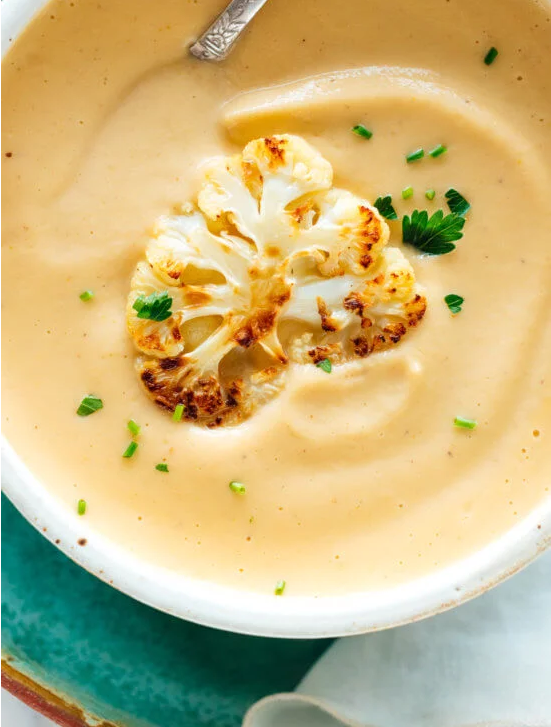 I began reading it, on the Cookie and Kate website but I was put off by the olive oil, the butter and the salt, but the next day cauliflower was on sale on my street, 2 medium cauliflowers for $3. So I decided to make the soup anyway, just adapt it to #WFPB. My neighbor had a plate and told me it was the best soup he'd ever had. I thought it was not all that bad myself. Here follows my adapted recipe.
#WFPB Cauliflower Soup
Removed all the added fat and instead used more onions.
Ingredients
1 large head cauliflower (about 2 pounds), cut into bite-size florets
3 cups of onions, pref. with at least one red onion, cut up fine. I used 4 medium onions, 2 red, 2 yellow.
3-10 garlic cloves
optional: some chilis, cut up fine, some turmeric or ginger (microplaned)
5 cups (32 ounces) vegetable broth or water with 1 tsp of Yondu, or Braggs Liquid Aminos per cup.
1 lemon or lime – juice
1 teaspoon ground nutmeg
For garnish: 2 tablespoons finely chopped fresh flat-leaf parsley, chives and/or green onions
Preparation
Preheat the oven to 400 degrees Fahrenheit. If desired, line a large, rimmed baking sheet with a silicone baking mat for easy cleanup.
On the baking sheet, toss the cauliflower and sprinkle with the veggie broth until lightly and evenly coated. Arrange the cauliflower in a single layer. Bake until the cauliflower is tender and caramelized on the edges, 25 to 35 minutes, tossing halfway and if necessary sprinkling on some more water – I just use the timer and do 15 + 15 minutes, and sprinkle the cauliflower with some more water at the break.
Once the cauliflower is almost done, in a Dutch oven or soup pot, caramelize the onions. Cook, stirring occasionally, until the onion is softened and turning translucent, 5 to 10 minutes.
Add the garlic and optional other spices (chili, turmeric, ginger) and cook, stirring constantly, until fragrant, about 30 seconds, then add the broth.
Reserve 4 of the prettiest roasted cauliflower florets for garnish. Then transfer the remaining cauliflower to the pot. Increase the heat to medium-high and bring the mixture to a simmer, then reduce the heat as necessary to maintain a gentle simmer. Cook, stirring occasionally, for 20 minutes, to give the flavors time to meld.
Once the soup is done cooking, remove the pot from the heat and let it cool for a few minutes. Then, carefully transfer the hot soup to a blender, working in batches if necessary. (Do not fill past the maximum fill line or the soup could overflow!)
Add the lemon/lime juice and nutmeg and blend. Add Braggs Liquid Amino's or Yondu, to taste. You can also a little more lemon juice, if it needs more zing. Blend again.
Top individual bowls of soup with 1 roasted cauliflower floret and a sprinkle of chopped parsley, green onion and/or chives. This soup keeps well in the refrigerator, covered, for about four days, or for several months in the freezer.