In my book decent kitchen knives are the single most important tool in the kitchen. I have at one point or another owned every garlic press that was ever made, but if I want to cut up some garlic, I grab some bird's beak paring knife. Nothing beats that, and I have given away all the garlic presses I have ever owned. In short, you always come back to knives. Lots of kitchen gadgets don't save nearly as much time as they claim to, and many are hard to clean, so whatever time you might gain is lost in extra cleaning time. Keep it simple, stupid is sound advice in this department.
I try to keep some of my knife info up to date in my shop in the Knives and Stones section.
The minimum is three knives, I think
That is just from experience, but exactly which three knives… well that's a work in progress, and occasionally I get tempted to try out a new knife, but only over time do I develop a preference and from time to time it shifts, but some knives tend to stay. So, for my minimum knife set I will nominate:
Bird's beak paring knife, and at the moment my loyalties are mostly with my oldest one, which is a Mac Chef Series knife. It is nice and compact and I like that it's thin and light. A close second choice is my Shun Classic. It is a little easier to keep really sharp and for fine work like cutting up delicate fruit such as strawberries, that counts for a lot.
I have a few more favorites, such as the Mercer Culinary Genesis 3″ birds beak paring knife. It is very sharp and elegant, and I like it also, even though I generally prefer a 2.5″ size for a bird's beak knife. With an HRC of 56, it is easy to maintain, but will also definitely need regular sharpening. Lastly, there is the Dahlstrong Shogun series 3″ tourné peeling, paring knife, which has HRC of 62. Same as the Mercer Genesis, this one is 3″ but to my taste the handle is a bit too bulky for this type of knife, yet it is amazingly sharp and a favorite for that reason. The Dahlstrong exposé on Amazon about the steel used in this knife (AUS-10V), is worth reading – if you do, you're going to want this knife!
On the whole these birds beak knives are what I use a lot, that's why I put them in the #1 spot. Cutting up cloves of garlic is another place where they shine, as much as delicately carving fruit.
For a prep knife I usually bypass the paring knife and go to my trusty Enso HD Hammered 5.5″ prep knife, with is a VG10 steel with 61 HRC. There is also an SG2 version of it, which rates at about 63 HRC, which is a tougher steel, but more than double the price and delicate, because higher hardness It will retain its edge longer. I prefer this length of knife for most of my prep work, it is just very maneuverable and I rarely reach for a longer knife.
If I really were to be limited to three knives, I might just get a chef knife, but the question is which one. If money is no object, I would pick the Miyabi Birchwood SG2 Chef Knife, it is nice and light and at 63 HRC it has long edge retention if you treat it well. It is simply a delight to work with. Knives like that are easy to chip though, although in a plant-based kitchen there tends to be less opportunity for mischief in that department, which tends to come from cutting bone etc. If there are kids around, a cheaper knife might be more user-friendly. Mercer and Victorinox offer good choices for a reasonable price. Moving slightly upscale from there, I have to admit that my Misen chef knife is a real favorite.
So there you have it, this is a good basic collection.
How about a few more knives?
My immediate next two choices would be a good set of Japanese vegetable knives, a nakiri which is more for flat slicing and cutting and an usuba, which is more for peeling. I don't think I would have these around if I had kids. They are just too delicate, but a joy to work with.
My top choices are probably:
This Yaxell 7″Nakiri, which is decidedly my favorite Nakiri knife. I have others, but this one is head and shouldders above the rest. Good for all general vegetable prep. Heer is a good website to teach you Japanese vegetable cutting techniques.
The Usuba is more for peeling. See the video above for the Katsura-Muki technique, which I practice whenever I put daikon in my soup. My favorite usuba is my Shun Classic Pro 6.5″Usuba, made from VG10 steel, which does not seem to be available any more. The distinguishing feature of the usuba is that it is hollow toward the left, which is what makes it so suitable for peeling. You can get it hollow on the other side if you're left handed.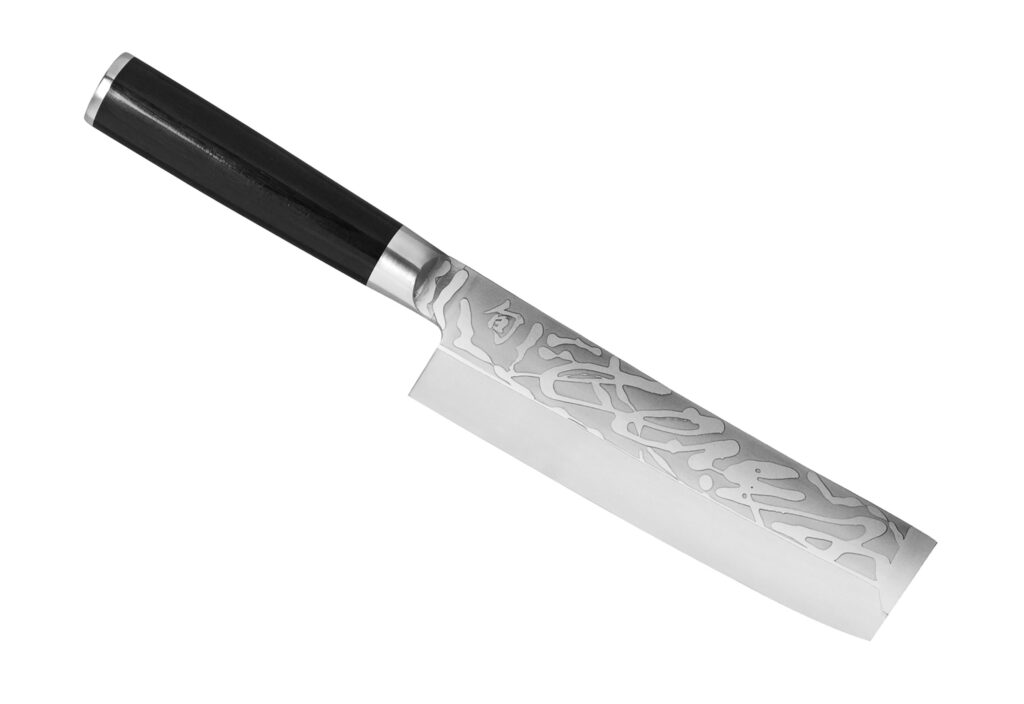 Other handy knives
I have mentioned my Yaxell Bunka-style 5.5″ Prep knives above. I got to like this style of knife, and I have built up a small collection from the Sharp Edge Shop, all of which I love. These knives are what I grab if the 5.5″ is too short:
The Bunka Black Damascus, a 6.5″ blade, made of VG-10 steel and with HRC 60-61.
An SG2 Bunka Matte with a 6.5″ blade, made of SG2 steel, with a HRC of 62/63
A ZDP-189 Bunka Black, a 7.5″ blade, HRC 65-67, made of ZDP -189 Steel
All of these knives are wonderfully sharp, with great edge retention and make quick work of any vegetable cutting you may have to do.
Paring knives
Straight paring knives are easy to find but the ones that suit your style will be determined by just using them. My favorites include a Mac Professional Paring knife, as well as a Mac Original series paring knife.
Mercer makes a great paring knife also, the Mercer Culinary Züm Forged Paring knife, which is made of X50CrMoV15 steel, that means it has a Rockwell hardness (HRC) of 56, making it easy to sharpen, but also in need of regular sharpening and fairly robust. It comes very sharp, and at 56 HRC is easy to maintain. The Mercer is a 3.5″ knife, which to me is optimal for a straight paring knife, in a pinch, you can still operate with your thumb opposing the tip for fine control. In my book, 2.5″ to 3.5″ is the range for paring knives and 4″ to 5.5″ is the range for prep knives.
I also have an old Sabatier paring knife that I love, there's nearly nothing left of it after 40 years of use, but I'll use it until it falls from my hand. In all, I don't seem to use the straight ones all that much, I'd sooner use the bunka-style prep knife.
A Word about Ceramics
I adore the Kyocera company, which in my book is one of the best companies on the planet. The founder's (Kazuo Inamori) memoir is worth reading, From Zero to Kyocera. They make a great series of ceramic knives. There are others, but Kyocera is the Rolls Royce of the ceramics business. These knives excel for delicate work, but you do not want to use them on tough jobs – they do not flex. One of the principal uses of the ceramic knives for me is with cutting up lemons and limes. The acid isn't very good for your steel knives, but with ceramics it's no problem. I also love the Kyocera ginger grater, very sharp, but again, brittle. Do not drop it on the floor.
The Upshot
The reality is that I included a chef knife mostly as part of my idea for "only three knives." In practice I use them only occasionally. The way my habits have evolved, I find that I use my bunka-style knives the most, and usuba for special cuts for which it is best. In most cases, I would grab the bunka knives over a nakiri.